Upper body workout - Extra spiermassa
Deze 'Upper Body' workout is specifiek gericht op het vergroten van de spiermassa van het bovenlichaam! De borst, rug, triceps, biceps, schouders en buikspieren worden grondig aangepakt. Train in de sportschool of thuis met deze super workout!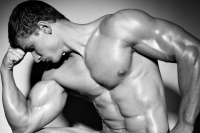 60 minuten

Sportschool

Hard

€1,79
- Train 3x per week voor een optimaal resultaat.
- Laat de getrainde spieren minimaal 1,5 dag herstellen.
- Tijdens je hersteldagen kan je wel aan cardiotraining doen om je vetpercentage omlaag te brengen. Bijvoorbeeld: cardiomachines in de sportschool, fietsen, hardlopen, joggen, etc...
- Wacht met trainen als je nog spierpijn hebt van voorgaande trainingen. Herstel = Massa
- Zoek een passend gewicht bij elke oefening waarbij je bij de 12de herhaling volledig bent uitgeput.
- Kan je een oefening niet uitvoeren vanwege fysieke klachten? Zoek dan een andere oefening voor dezelfde spiergroep.
- Eet extra eiwitten voor een optimale groei. Bijvoorbeeld: kwark, yoghurt, kipfilet, eieren, vis.
- Eet bij voorkeur 2,5 uur voor je training een voedzame maaltijd.
De oefeningen in deze workout
Incline Barbell Press
Dumbell Triceps Kick Back (Bench)
Bent over Barbell Row
Brabell Shrug
Standing Dumbell Press
Dumbell Sit Up
Barbell Upright Row
Dumbell Pull Over (Bench)
Barbell Biceps Curl
Standing Dumbell Side Raise
Crunch With Twist
Laying Leg Raise
Om deze workout te doen heb je de iPhone app FitBooster nodig.
Andere Sportschool workouts