Barbell Workout - Voor meer spiermassa
Ervaar de kracht en functionaliteit van het trainen met een ijzeren stang. Vergroot je spiermassa met deze 'Barbell Workout'! Zowel grote als kleine spiergroepen komen aan bod. Train met je persoonlijke Workout in de sportschool of thuis wanneer het jou uit komt.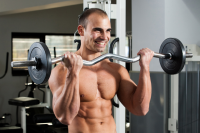 45 minuten

Sportschool

Medium

€1,79
- Doe eerst een warming up op een cardiomachine
of ga een rondje joggen.
- Ga niet trainen als je nog spierpijn hebt van de vorige training.
- Zoek een passend gewicht per oefening zodat je uitgeput bent bij de laatste herhalingen die je maakt.
- Eet minimaal 2 uur van te voren een voedzame maaltijd.
- Eet extra eiwitten voor een sneller herstel. Vis, kwark, groenten, yoghurt etc...
De oefeningen in deze workout
Barbell Dead Lift
Total Crunch
Oblique Heel Touch
Sit Up
Lying Triceps Extention
Bent over Barbell Row
Barbell Squat
Barbell Biceps Curl
Barbell Bench Press
Barbell Upright Row
Om deze workout te doen heb je de iPhone app FitBooster nodig.
Andere Sportschool workouts